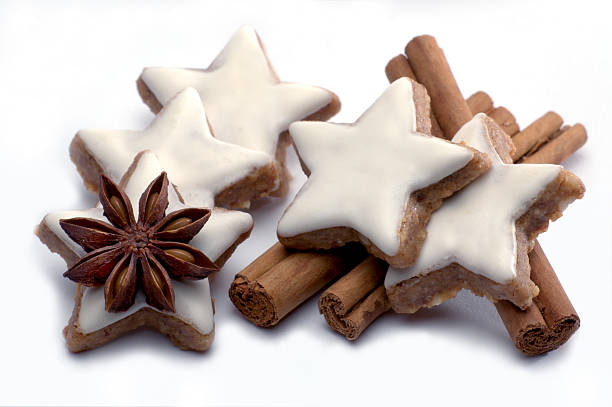 Everyone's favorite Swiss girl Heidi, a character in Jane Eyre Gets Real, misses her grandfather and Peter with especial poignancy at this time of year. In Switzerland, Santa Clause is known as Samichlaus and is accompanied by a rather scary sidekick called Schmutzli (who carries a bundle of twigs with which to punish naughty children; he's like the human equivalent of getting coal in your stocking). This pair shows up on December 6, Saint Nicholas Day, and not the eve of the 24th. In many Swiss villages, on the night of December 5th, boys parade through the streets holding bishop's miters cut from heavy paper and lit from within by candlelight. Known as iffele, they can be as high as six feet tall, and when lit up they are as translucent and colorful as stained glass.
It's traditional to bake cookies at this time, not so much for Samichlaus–who rides on horseback, not a reindeer-drawn sleigh; but to put in baskets which are then distributed to neighbors, kids and those in need. The dough is often prepared the day before baking and left to "rest" at night; though this can be tempting for people–and pets–who might eat it before it is baked!
Heidi's favorite cookies include: cinnamon stars; sables (you might know them as butter cookies, sometimes baked in chess or snail patterns and frosted with white icing sugar); basler brunsli (chocolate almond spice); and mailanderli–sugar cookies cut into the shapes of hearts, bells or mushrooms.  Christmas cookies are called Wiehnachtsguezli (say it out loud, it's fun!)
Heidi likes to dip her cookies in her favorite cocoa, which she makes by boiling milk, cocoa powder, and sugar, then allowing high-quality dark chocolate–Swiss, of course!–to melt in this mixture. She boils again, stirring all the time; finally, she adds peppercorn. Grandfather is not adverse to adding a splash of rum. This cocoa is best served in tall glasses and garnished with whipped cream and chocolate shavings. (TIP: when pouring hot cocoa into a glass, place a spoon in the glass first–it helps break up the heat so the glass doesn't shatter)
Happy St. Nicholas Day!