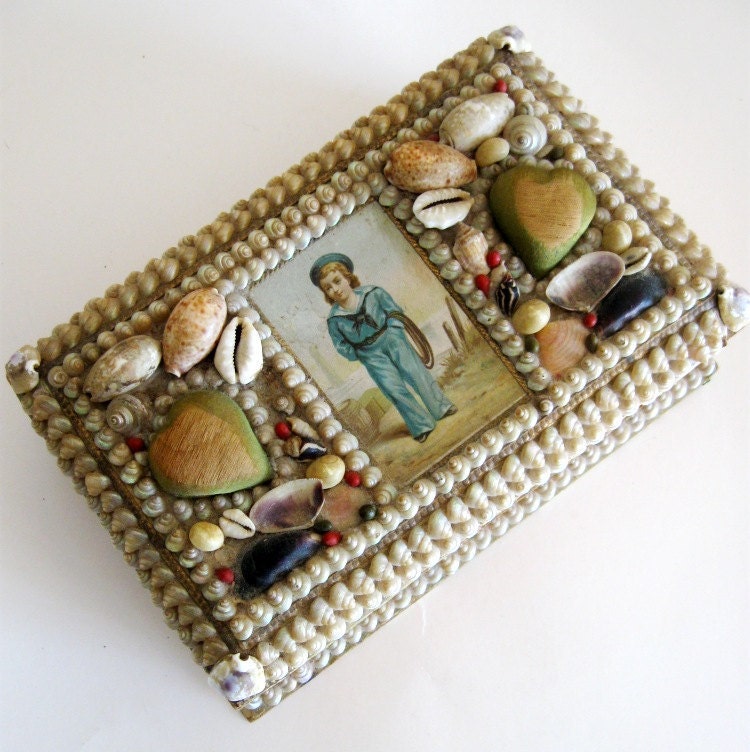 If Jane Eyre had ever gone to the seaside she'd be the kind of lady who'd make shell art. This was a popular pastime in the Victorian era, as it involved patience, dexterity, ingenuity and the use of found (free!) objects. Of course, a lady could always cheat a bit and buy shells; for instance at Mrs. Robinson's shop on Grosvenor Square they were available by the packet, complete with patterns for mirrors, boxes, and picture frames.
Though making all kinds of things with shells became a trend in the 1800s, rather like adult coloring books are now, shells-as-decoration actually started with Royalty then trickled down to the bourgeoisie. Did you know that Louis XVI commissioned a cottage made entirely of shells for Marie Antoinette? Back in England the posh 18th-century furniture maker Thomas Chippendale was known for carving shell motifs onto chairs and cabinets. Across Europe noble estates boasted faux grottoes, copied from ancient Rome, and positively smothered in seashells.
Humble objects, especially those created by women, are achieving more attention in the art world. Embroidery, patchwork, needlepoint and beading are all being viewed with a fresh eye as to their importance. Former President Obama's portrait was even recently done in Legos, by the artist known as Brixel (admittedly a man). Can we look forward to the first critically acclaimed seashell artist? To a replica of the Mona Lisa rendered in scallops perhaps or, a la Picasso, women descending a spiral staircase made from the curvy helix? With shells all things are possible!