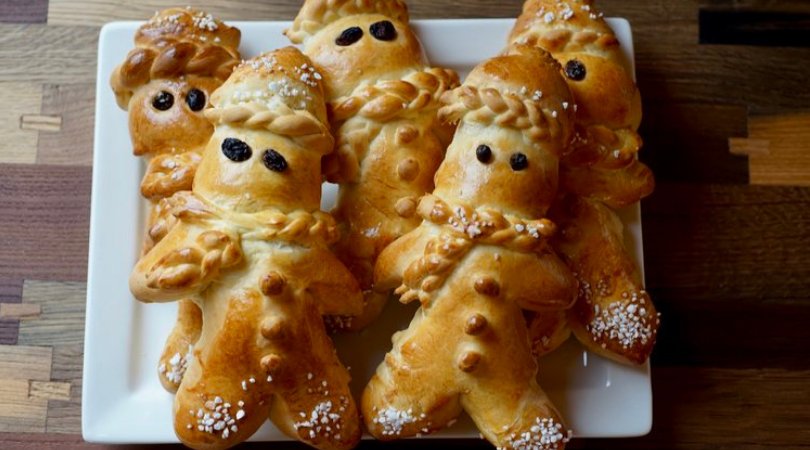 Heidi, the youngest character in Jane Eyre Gets Real, is perhaps also the wisest. She knows just how to beat the winter blahs–by baking a batch of grittibanz, the traditional "bread" people of Switzerland. Similar to gingerbread cookies, these little bread people will bring a smile to anyone's face: take that, pancakes!!! Though it is traditional to serve them on December 6, Saint Nicholas Day, Heidi sees no reason they shouldn't be enjoyed all year long. These would also be good to serve for the first day of school or a birthday.
Here's what she does:
In a cup, mix 1 and a half teaspoons of yeast with a pinch of sugar. Place 3 cups flour in a bowl and mix it with 1 teaspoon salt and 1/2 cup of sugar, 1/2 cup of softened butter, lukewarm milk (about one cup), one egg, lemon zest and the yeast. Knead dough until it is smooth. Cover and leave to rise in a warm place (it should rise to double its original size).
Knead the dough again, then use a knife to cut pieces of the dough in the desired size and roll out to an oval shape. Mark the head by pressing the dough together slightly and turn the head to the back to make the neck. Cut out the arms and legs and place them in the right anatomical positions.
Decorate the figures with raisins and almonds. Leave to rise and put in a cold place for approx. 30 minutes. Before baking, brush with egg yolk and sprinkle with coarse, granulated sugar. Bake for 20-30 minutes in a 350 degree preheated oven.
Because this bread comes out light, fluffy, soft and sweet it is also perfect for great-grandmothers, who may or may not have dentures, to munch with a cup of coffee.
Fun fact: gritti means a figure standing with legs apart and banz is a nickname for Benedict. So this bread really means Benedict who Stands Akimbo. Perhaps they were originally named for Saint Benedict, born in 480 AD, the son of a Roman nobleman who ended his life as a hermit.