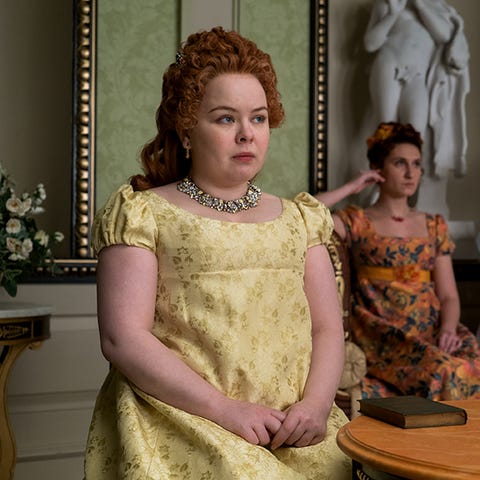 In Annabelle Troy's novel Jane Eyre Gets Real, in which several literary characters find themselves stuck in a Big Brother type reality show, Mr. Darcy is the character who represents Jane Austen. So it is only fitting that he give his opinion of #Bridgerton, the Netflix series set during the Regency, based on the novels of Julia Quinn.
From the beginning Mr. Darcy enjoyed the show's lush production values and perfect costumes. It gets so many details, such as the slang of the times, just right. It was pleasant to see a color blind cast and fresh faces. The principal ingenues, notably Phoebe Dynevor as Daphne Bridgerton, Ruby Barker as Marina Thompson, and Nicola Coughlan as Penelope Featherington, are charmingly played. Many young ladies will also relate to the character of Eloise Bridgerton (Claudia Jessie), Daphne's little sister and a burgeoning feminist who has no interest in being a future debutante. Each female has her counterpart in a prince, rake or handsome Bridgerton brother. Though the plotting was a bit slow at first, Mr. Darcy found himself gradually drawn into the story lines.
Since so much was right and nothing obviously wrong he wondered why he was not even more enraptured. Perhaps, he supposes, because there is much contrivance along with much honesty. Bridgerton uses the device of a gossip columnist named Lady Whistledown (never seen, whose identity is hidden and whose voice is supplied by #JulieAndrews) to comment upon and call out the scandalous doings of Regency society. This basically makes Bridgerton the 19th century equivalent of Gossip Girl, which grated a bit on his nerves. Also, though the historical Queen Charlotte may have been of multiracial descent, her court was NOT integrated and color barriers were very much observed. Bridgerton states otherwise. The show may have done better to cast black actors in major roles, such as the Duke (Regé-Jean Page), but not tried to offer an explanation why. Also, in one memorable scene, the Duke explains masturbation to the innocent Daphne, which she later practices at home. Surely, Mr. Darcy thinks, such a thing would never have been done by Elizabeth Bennett!
This being said, the episodes of Bridgerton are much like a cone of sugared almonds: too rich to consume all at once but delectable one by one.